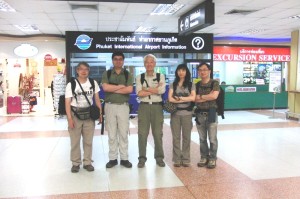 Participants:
Lee Ping Chung (Doc)
Arex Li (Giant Bear)
Tommy Chiu ( O D Magic)
Manson Chan ( funfun)
Lai Yuen Che ( Gigi)
Prepared by: P C Lee
Duration :6th to 10th May 2011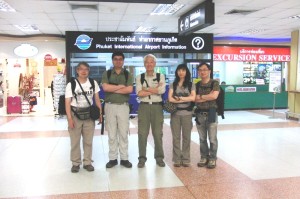 參加者:
Lee Ping Chung (Doc)
Arex Li (Giant Bear)
Tommy Chiu ( O D Magic)
Manson Chan ( funfun)
Lai Yuen Che ( Gigi)
作者: P C Lee
中文翻譯: Arex Li
日期 :6th to 10th May 2011
Day 1:
We arrived late since we took the night flight. By the time we arrived our hotel, the 'Boat Lagoon Resort', it was almost 1 pm. We went to bed as soon as possible. I choose this hotel because of its location. It is on the Eastern shore near the middle of Phuget Island, so we don't have to waste too much time in traveling. It was a bit old and worn but still not too bad. One thing came to my mind and must inform our members. You must book a car in advance. In the past there were car rental everywhere, even inside the hotel. Now, they are all gone and I did not seen even 1 jeep we used to hire for a very cheap price.
Day 2
After the buffet breakfast in the hotel we started at around 8;15. The weather looked bad with thick clouds over the whole sky. We went to the first location: Kathu Waterfall. It only took about 25 minutes to arrive. The first thing that came to meet us when we walk up the stairs was a big skipper, the Gangara thyrsis. It was dark and thanks to the remote flash, we managed to take a good photo. Various other butterflies were seen including the Junonia iphitia, Junonia almana, Junonia lemonias and Junonia hierta. I did not take any photos since they look similar to those we have in Hong Kong.
| | |
| --- | --- |
| | Gangara thyrsis thyrsis |
| | |
| --- | --- |
| Choaspes plateni caudatus | Cyretis cocles cocles |
| Prosotas aluta nanda | Eurema similatrix |
| Euploea core | Dacalana burmana |
| Parantica agleoides agleoides | Eurema ada |
| Hidari irava | Stimula swinhoei swinhoei |
| Drupadia ravindra boisduvalii (female) | |
| | |
| --- | --- |
| | Atrophaneura coon doubledayi |
As usual, it did not lay its egg on the foodplant.
Two Potanthus species were seen and cannot be ID, with a few other Hong Kong species which I did not take any photos. There was a while of sunshine so we went to the next destination which was also about 20 minutes from our hotel. The Tone Sai Waterfall in Khao Pra Thaeo National Park. It was quite dark inside the waterfall and the trail was difficult to walk with very few butterflies. We left after the sky was getting darker and darker around 4 pm. We had buffet dinner and a show in The Fantasea Park.
| | |
| --- | --- |
| Atrophaneura varuna varuna | Taxila haquinus |
| Arhopala abseus | Arhopala sp. |
There was a third much bigger arhopala which I miss. Junonia atlites atlites were everywhere. I missed also the Parthenos Sylvia, Tanaecia sp., Hypolimnas bolina , Chersonesia sp., Bassarona sp. The female of the Elymnias hypermnestra tinctoria that looks like the Danaus genutia,
Danaus melanippus, and Papilio memnon.
Actually, they are all common here, if you don't get it this time, you will get them some other time in the future.