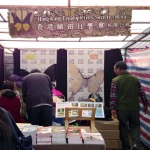 各位:                                                                      
本年度北區花鳥蟲魚展覽會將在2014年12月23日至29日在粉嶺遊樂場內舉行,一如以往,本會會擺置一個小賣攤位,歡迎各届昆蟲、蝴蝶愛好者親臨與本會互作交流,並可即場選購各種昆蟲、蝴蝶書籍。
同時歡迎各位會員前來參與書籍售賣的義務工作,有興趣的會員請電郵至 ngjojo@rocketmail.com報名,具體的營業地點、日期及時間如下:
地點:新界粉嶺新運路「粉嶺遊樂場」25號攤位
2014年12月23日                          下午1時至6時
2014年12月24日至28日             上午9時30分至下午6時
2014年12月29日                          上午9時30分至下午5時
12月24日至29日將分上、下午兩班制,會員報名時請在電郵內清楚註明希望出席的日期及時段,本會在接納報名後將個別回覆各報名的會員,謝謝!
香港鱗翅目學會謹啟
2014年12月05日

Hi All :
The North District Flower Bird Insect And Fish Show is scheduled to open on 23rd December 2014 at Fanling this year. As in the past, HKLS will operate a booth at the Show. We welcome any insects and butterflies enthusiasts to visit us and buy our books at the same time.
Any members who wish to participate, please send an email to ngjojo@rocketmail.com to register.
The place, time and date are as follows:
Place: Booth 25, Fanling Recreation Ground, San Wan Road, Fanling, N.T.
23rd December 2014                         1pm to 6pm;
24th to 28th December 2014               9:30am to 6:00pm
29th December 2014                           9:30am to 5:00pm
The time slot will be divided into two sessions of morning and afternoon from 24th to 29th December 2014. Please note down in your email which days and slots you wish to participate. We will revert back to you accordingly.
Thanks
HKLS